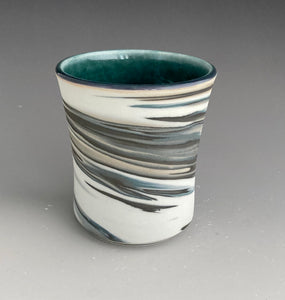 Wheel-thrown marbled porcelain tumbler. Each piece has its own unique patterns ensuring no two are the same. Please note, each is separately handmade and will vary in color and pattern. You will not receive the exact piece pictured in your order.
The cup will get hot if filled with a boiling hot beverage or microwaved so please use caution.  Great for warm tea, wine, other cold beverages or makes a nice sip cup for the bathroom vanity  
Holds 8-10 ounces
Microwave safe, hand wash recommended but dishwasher safe.  
4" tall